Browsing articles from "May, 2014"
In 2011 EADS, the European Aerospace and Defence group produced Airbike, the worlds first bike built using Additive Layer Manufacturing technology. Produced in Nylon but strong enough to replace steel or aluminium the Airbike was 'grown' in one piece using the Selective Laser Sintering (LS) process. With complex designs achievable at no extra cost a range of unique design features were incorporated into the Airbike design such as the auxetic structure to provide saddle cushioning or the integrated bearings encased within the hubs. Despite the technologies capacity to produce complex designs up to 65% lighter than traditional manufacturing techniques, high machine and material costs in 2011 prevented  LS technology from becoming an alternative to traditional manufacturing processes.
The past three years have seen considerable improvements in the range of materials and technologies available, with Rapid Prototyping growing in popularity within the UK cycling industry. In 2012 UK firm Crux Product Design used 3D printing technologies to produce helmets for the Team GB cycling team. Designed to ensure best fit, 3D laser scans were created for each individual athlete with these scans used to develop the 3D CAD data. Rapid Prototyping was used to convert designs into physical prototype models over night. The prototypes were then used as part of the helmet fitting process, giving the athletes complete confidence in final fit and function of their Olympic cycling helmets.
Not just a tool for accessory design verification Rapid Prototyping has proven popular in the design verification of various bicycle components. UK based Brompton Bicycle have incorporated 3D printing technology into their product design process with prototype models used for early design verification and product testing of components such as pedals etc.
Earlier this year British bicycle company Empire Cycles created the worlds first 3D printed titanium bike frame. Specialising in the design and manufacture of bikes specifically tailored to the demanding performance requirements of mountain bikers and downhillers, a significant challenge for Empire Cycles was the reduction of overall bike weight, carbon fiber while lighter would be more likely to suffer damage when "chucking yourself down a mountain". By using 3D printing technology it was possible for all unnecessary materials to be removed allowing for a weight saving of 44% against the original aluminium alloy seat post and a 33% weight saving against the original bike frame, with further weight reductions possible on future design iterations. The use of additive manufacturing technologies allows all the advantages of a pressed steel monocoque construction used in construction of motorbikes and cars, without the need for significant tooling investment.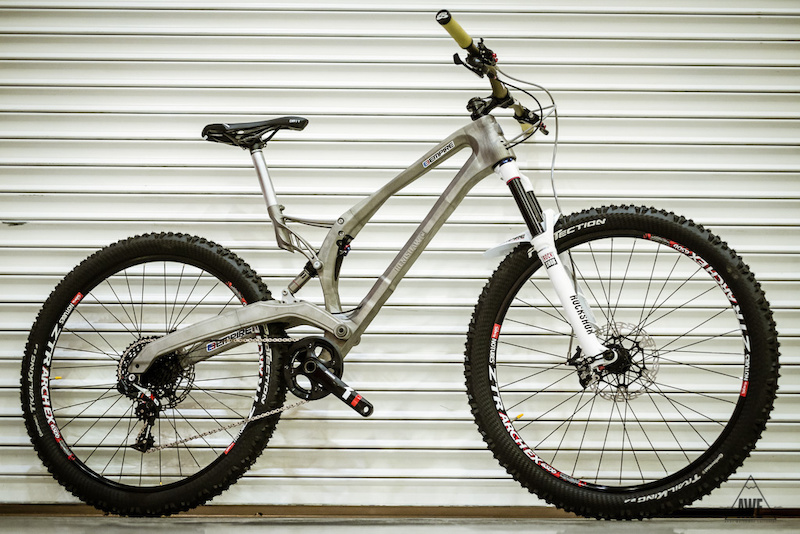 The 3D Printed seat post bracket has been tested using the mountain bike standard EN14766 and not only passed standard by continued to perform without failure to 6 times the standard. Testing of the bicycle and frame will continue both in lab and on mountainside with the project aim to produce a fully functional bicycle.
There are no immediate retail current plans for the Ti Trail Bike however it presents an interesting glimpse into the future of bike manufacturing