Browsing articles in "3dprinting"
Medicine has been around for thousands of years, and has had many leaps forward.  Shining moments which change the way we treat injuries and illnesses- the Hippocratic method,  immunisation, anaesthetics, antiseptics, vaccinations, transplant technology.  The next big leap is just around the corner, and has already started making an impact on the way we can treat patients.
3D-printing has been in use since the 1980s, but it is only recently that we have been able to print parts with the necessary levels of detail and endurance to consider them for medical use.  The potential is endless, with scientists predicting that it will be possible to print functional organs which can be transplanted to replace damaged or dying parts.  An Italian studio known as MHOX have been working on 3D-printed eyes which could replace or potentially be used to enhance regular human sight with features like zoom, photography, and of course WiFi.  This may sound like science fiction, but they believe the technology will be readily available by 2027.
With all this to look forward to it's easy to miss the developments that are being made today.  Using titanium it is possible to create skeletal structures that can be placed within the human body.  A man in Wales had his face rebuilt using titanium after he was injured in a bike accident.  A team in Southampton created a replacement hip, and the dentistry industry have been using it to create caps and crowns for teeth faster and more cost effectively.
Last month, we covered a segment on 3D printed prosthetics involving Robert Downey Jr. and a group known as Limbitless Solutions.  Prosthetics is an industry that is being revolutionised due to the huge cost reductions 3D-printing technology brings.  While an arm would cost upwards of £25,000 before, they can now be made for as little as £200.  This makes the technology far more accessible and will hopefully spur even greater developments.
The medical industry is always developing, always looking for new ways to help and to heal- 3D printing will be one of the 'big leaps' of the 21st century.   Due to the unique nature of each person and their medical requirements, it is likely that the field will be suited to low volume production, and due to the strict standards set for the materials used the bar is set very high in terms of the equipment and expertise required.
If you have ventured into your local town over the past few days you will be left with no doubt that Christmas is just around the corner. City centres have become a constant hive of activity with finding a parking space near as challenging a task as finding that perfect present for your loved ones.
For those in Maryland (US) however finding a truly unique Christmas gift may just have become that little bit easier thanks to a new business venture, the 3D Print Factory. A 3D Print shop which opened its doors earlier this November, the 3D Print Factory offers customers access to every technology offered by 3D Printing including custom prototyping and reverse engineering services. The store's current location within Valley Mall  specialises in custom 3D Christmas ornaments for the holidays season in addition to custom figurines (personalized, sports, celebrity etc) and any other printable file.
So if you happen to be in the Maryland region over Christmas and know someone with an interest in 3D Printing you might just find the perfect Christmas gift after all, just look for the 3D Print Factory logo!
With World Cup fever taking over at the LPE office and the use of a partially 3D printed exoskeleton featuring in the opening ceremony it was only a matter of time before we got around to writing a post on 3D Printing at the 2014 FIFA World Cup.
While 3D printings appearance at the Opening Ceremony may have been brief the $20 million contribution by the Brazilian government to the Andar de Novo(Walk Again Project) was perhaps the most note worthy, as a young paraplegic took the ceremonial first kick with the assistance of 3D printing and bionic technology . Headed by Brazilian neuroscientist Miguel Nicolelis, the project aims at restoring movement to people who have suffered brain lesions or neuromotor diseases by using their minds to control a exoskeleton which substitutes for the functioning of the lower limbs. The World Cup kick off while symbolic to football fans everywhere has become something much more significant, it has become the first step of a much larger project a project aimed at helping countless paraplegics walk again. (Find out more about the Walk Again Project)
Sporting giant Nike have invested considerably in 3D Printing technology in recent years with an increase in their sporting goods not only designed by also manufacturing using Rapid Prototyping technology. Designed exclusively for its roster of top world cup players, Cristiano Ronaldo, Wayne Rooney and Neymar Jr. Nike have introduced the Rebento Duffel, a 3D printed performance sports bag. The bag features a 3D Printed that echoes the stud plates on the Magista boot (also designed for the 2014 games) with the lower body also taking cues from the Flyknit pattern on the Magista boot and features Selective Laser Sintering technology. Hand-crafted premium leather upper and straps which seamlessly fits into the base without the need for any glue/adhesive allow for further weight reduction and flexibility. The Rebento also features a custom 3D printed piece of Gold hardware with the player's name
In 2011 EADS, the European Aerospace and Defence group produced Airbike, the worlds first bike built using Additive Layer Manufacturing technology. Produced in Nylon but strong enough to replace steel or aluminium the Airbike was 'grown' in one piece using the Selective Laser Sintering (LS) process. With complex designs achievable at no extra cost a range of unique design features were incorporated into the Airbike design such as the auxetic structure to provide saddle cushioning or the integrated bearings encased within the hubs. Despite the technologies capacity to produce complex designs up to 65% lighter than traditional manufacturing techniques, high machine and material costs in 2011 prevented  LS technology from becoming an alternative to traditional manufacturing processes.
The past three years have seen considerable improvements in the range of materials and technologies available, with Rapid Prototyping growing in popularity within the UK cycling industry. In 2012 UK firm Crux Product Design used 3D printing technologies to produce helmets for the Team GB cycling team. Designed to ensure best fit, 3D laser scans were created for each individual athlete with these scans used to develop the 3D CAD data. Rapid Prototyping was used to convert designs into physical prototype models over night. The prototypes were then used as part of the helmet fitting process, giving the athletes complete confidence in final fit and function of their Olympic cycling helmets.
Not just a tool for accessory design verification Rapid Prototyping has proven popular in the design verification of various bicycle components. UK based Brompton Bicycle have incorporated 3D printing technology into their product design process with prototype models used for early design verification and product testing of components such as pedals etc.
Earlier this year British bicycle company Empire Cycles created the worlds first 3D printed titanium bike frame. Specialising in the design and manufacture of bikes specifically tailored to the demanding performance requirements of mountain bikers and downhillers, a significant challenge for Empire Cycles was the reduction of overall bike weight, carbon fiber while lighter would be more likely to suffer damage when "chucking yourself down a mountain". By using 3D printing technology it was possible for all unnecessary materials to be removed allowing for a weight saving of 44% against the original aluminium alloy seat post and a 33% weight saving against the original bike frame, with further weight reductions possible on future design iterations. The use of additive manufacturing technologies allows all the advantages of a pressed steel monocoque construction used in construction of motorbikes and cars, without the need for significant tooling investment.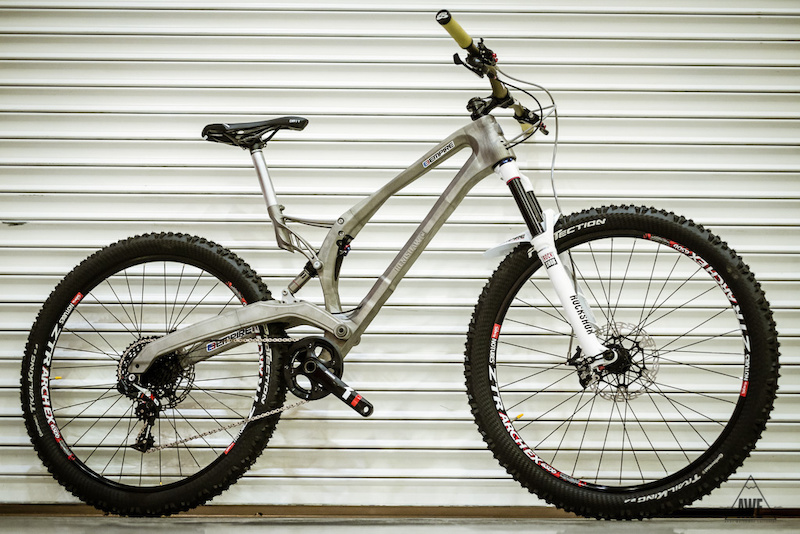 The 3D Printed seat post bracket has been tested using the mountain bike standard EN14766 and not only passed standard by continued to perform without failure to 6 times the standard. Testing of the bicycle and frame will continue both in lab and on mountainside with the project aim to produce a fully functional bicycle.
There are no immediate retail current plans for the Ti Trail Bike however it presents an interesting glimpse into the future of bike manufacturing
Hereward 3D is a collaborative project between Hereward College and The University of Warwick funded by The University of Warwick Science Park. This project combines the students at Hereward College expert knowledge of young people using assistive technology with Warwick University's expert knowledge of 3D printing technologies, with the aim of empowering young people to design and 3D print assistive technologies tailored to their own specific needs.
Since September 2013, staff and student tutors from the WMG and the Department of Computer Science have been working with Hereward students at a weekly workshop. One of the collaborations ongoing projects involves the design and production of a bespoke iPhone Communication Aid Mount for a wheelchair user as shown below.
A proactive project, Hereward 3D shows how 3D Printing technology can be used to improve the quality of life and increase independence for those living with disability. To check out the projects progress visit the Hereward 3D webpage.
Much has changed since the first Modern Olympics was held in Athens, Rome in 1896. From a private funded, little publicized event the Olympics has grown in popularity to become a highly anticipated sporting event with some 200 nations competing  across the various events.
Fierce competition within the running events means victory is often won by seconds rather than minutes, for example the men's 100 meter dash, with approximately 2% of a percentage difference separating current record holder Usain Bolt and 5th ranked fastest runner of all time Nesta Carter. Therefore shaving just 3.5 % off a runners time can mean the difference between victory and defeat.
French engineering and design student, Luc Fusaro aims to provide runners with the key to  unlocking this 3.5 second difference, a 3D Printed running show branded "Designed to Win".
Unlike existing custom footwear where slight changes to material or spikes allow for cosmetic customization, it is at a structural level the customization occurs for the "Designed to Win" footwear. Scans are taken as the athlete performs  a number of different athletic feat such as jumping off a box or running with these scans then used to tweak performance of the shoe. Once tweaks have been finalized the shoe is then build layer by layer in a Nylon powder using the Selective Laser Sintering (LS) process.
The resulting shoe weighs just 96 grams, making it the lightest racing shoe to  date (the super light Nike Mayfly weights 136 grams). Currently Fusaro is tweaking to pattern of the material to achieve the required level of flexibility. With the structure all about functionality the gold coating and spikes ensure the final product will look really neat. Fusaro hopes to debut fully functional "Designed to Win" footwear in 2016.
Entering into the grand 16 square meters of "Digital Grotesque" you could easily mistake it for the intricate interior of a Baroque cathedral in fact what stands before you is the first ever "fully immersive, solid, human-scale enclosed structure entire 3D printed out of sand.
Designed and developed by Swiss architects Michael Hansmeyer and Benjamin Dillenburger, the 11 tonne structure exhibits an impressive 260 million surfaces with a layer resolution of 0.13mm.
Speaking on the projects website the team describe the project as "neither foreign nor familiar" as it straddles both chaos and order  and the natural and artificial. The building was not created by traditional design methods rather by an algorithm which at its most basic level gradually refines and enriches a simple input form. Their website stated "any reference to nature or existing styles are not integrated into the design process, but are evoked only as associations in the eye of the beholder"
The project took 13 months to complete with the entire structure built in just one month! Less concerned with functionality than with the expressive formal potentials of digital technologies, the work of Hansmeyer and Dillenburger examines the spatial experiences and sensations that these technologies enable.
Watch the video below

Digital Grotesque . Printing Architecture from Digital Grotesque on Vimeo.
A strong supporter of Additive Manufacturing technologies, NASA has long recognized the potential of this technology to significantly reduce the production time and costs not only within the aerospace industry but across a wide range of industries.
A recent partnership between NASA and provider of propulsion and energetics to the space sector Aerojet Rocketdyne may have brought Additive Manufacturing technologies one step closer to use in full scale production of critical aerospace components.
Suitability testing took the form of hot fire testing where a rocket injector assembly underwent a series of firings of a liquid oxygen and gaseous hydrogen. This injector component forms the heart of a rocket engine representing a lions share of the overall cost of rocket engine systems. Using traditional manufacturing techniques the injector would take more than a year to produce however the use of Additive Manufacturing tecnologies cuts this lead time to less than 4 months and reduces cost of production by 70%.
The successful completion of testing has marked a significant boost for additive manufacturing for use in rocket engines, with Carol Tolbert, manager of the Manufacturing Innovation Project at NASA Glenn Research Centre, stating 'these successful tests let us know that we are ready to move on to demonstrate the feasibility of developing full-size, additively manufactured parts'
Electronics giant Maplin is set to be the first high street retailer to sell 3D printers for use in the home.
The Velleman K8200 will retail at £700.00 and allow customers to build any object layer by layer from virtual 3D modelling software, provided it is below 20cm³. Certain restrictions will apply such as the ability to only print one colour at a time. However with a choice of 8 print colors available, and replacement cartridges costing only £30 for 1kg,  it will be possible to print your multicolored design in separate pieces and attach them together later.
Speaking on the Velleman K8200 Mr Meakin, Commercial Director at Maplin stated "We selected this model primarily because it offers high performance printing at an affordable price, making it accessible to our customers. In additiona, it requires assembly before use, which fits with the 'build it yourself' ethos so central to Maplin's heritage. Part of this enjoyment lies in putter the kit together, so users are not just investing in a great product, but an experience too"
We at 3D Printing News are looking forward to seeing just what this printer can do in stores later this year!
When 6-month-old baby Kaiba suddenly couldn't breath his parents knew something was horribly wrong. Doctors initially suspected that Kaiba had probably just breathed something in however it happened again a couple of days later and continued to happen every day. Further investigation revealed the obstruction was caused by a rare condition known as bronchial malacia, a blockage that affects respiration. Treatment would require the insertion of a splint to hold the air passage open and allow the tissue to grow and heal around it properly.
To date the FDA has not approved 3D Printed components for use in humans, but with time of the essence special dispensation was granted for this radial approach., making baby Kaiba the first human subject to test this procedure. To produce the splint Kaiba was first imaged, to allow for extremely accurate dimensions to be used in the creation of  a computer model. This CAD file was then set to print requiring approximately a day for the tiny custom splint to be fully formed.
The splint was produced in  3D print material Polycarprolactone (PCL), a material often used in medical applications including as a filler to close gaps left in the skill following brain surgery. As PCL degrades over time yet is strong enough to offer the necessary support there will be no need to operate to remove the stint once the bronchus has healed in the proper position. 15 months on from surgery Kaiba is doing well and can now breathe on his own.
No official policy on bio-printing body parts has been agreed by the FDA however as 3D printing technology becomes increasingly sophisticated it is likely that a decision will be required sooner rather than later.